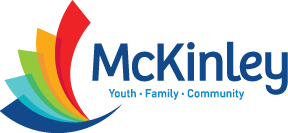 YOUTH AND FAMILIES THRIVING IN LIFE AND IN THEIR COMMUNITIES
At McKinley, we are driven by the belief that every person is worthy of hope and help. Originally founded as a residential facility for orphaned children over a century ago, we have grown and evolved into a multifaceted organization dedicated to improving the lives of young people and adults in our community.
With each new program, service, and community outreach initiative, we offer a lifeline by providing transformative education, counseling, and social services in a nurturing and compassionate environment.
Jehu Paulin
McKinley held their first ever Harvest Bowl on November 2, 2019 at Chaparral Lanes in San Dimas. 
Jehu Paulin
McKinley and A Friend In Me's Color Fun 'N Run was a huge success!
A SPECIAL THANKS TO OUR SPONSORS & DONORS






The charitable efforts of our community sustain McKinley, allowing us to maintain the highest standards of treatment and care for our children. Each year, hundreds of generous benefactors from all walks of life have made donations that enable us to continue our mission, ensuring that no child is left behind.
MAKE A DIFFERENCE
Your donations allow us to bring valuable services to children and families throughout Southern California. Thank you for helping McKinley continue our mission, as we recognize and celebrate the unique contributions each individual makes to our community.